Data Security Tips
Posted by

Categories

Blog

Date

July 2, 2020
With cyber-attacks becoming more oriented toward data theft, it is vital for both businesses and individuals to take extra precautionary methods when it comes to data protection. it is therefore vital to strengthen data security. Data is transferred across multiple channels through the internet and becomes vulnerable to online data breaches.
Data Security is critical to ensure the protection of important data assets that include financial transactions, customer login credentials, personal health records, etc. Users must be savvy about data protection and enforce data security solutions. Individual consumers and organizations invest heavily in IT technology to implement effective cyber defense functionalities. It is key to use data effectively to create a positive impact on every aspect of the business to remain safe from online dangers.
Data security is worth investing in because a breach can ruin your business and the trust that customers have in your service. Investing in security doesn't have to be monetary, small efforts here and there can go a long way.
Here are some key data protection tips to help spread awareness and keep your information secure.
1. Use strong encryption
The days are long gone when strong encryption was only needed for the most sensitive data. Now, it should be standard practice for any kind of personal information. Make sure that both at-rest data, such as that stored on physical servers, and in-transit data, including information transmitted to and from cloud services, are covered. Since you collect personal information from customers, it is important to ensure no one gets to intercept this during transmission. Using a secure connection such as Secure Sockets Layer ensures that the data you collect is securely sent. It is your responsibility to protect your customers' credit card information. If your site is not being accessed through a secure and encrypted protocol, you shouldn't be collecting personal or credit card information.
2. Keep your antivirus software updated
Installing an effective and reliable and updated antivirus software comes handy as the first line of defense to enable active protection. Most businesses make this mistake and run obsolete versions of their security software, leaving the data on their local drives at risk. Only install these programs from a known and trusted source. Keep virus definitions, engines, and software up-to-date to ensure your programs remains effective.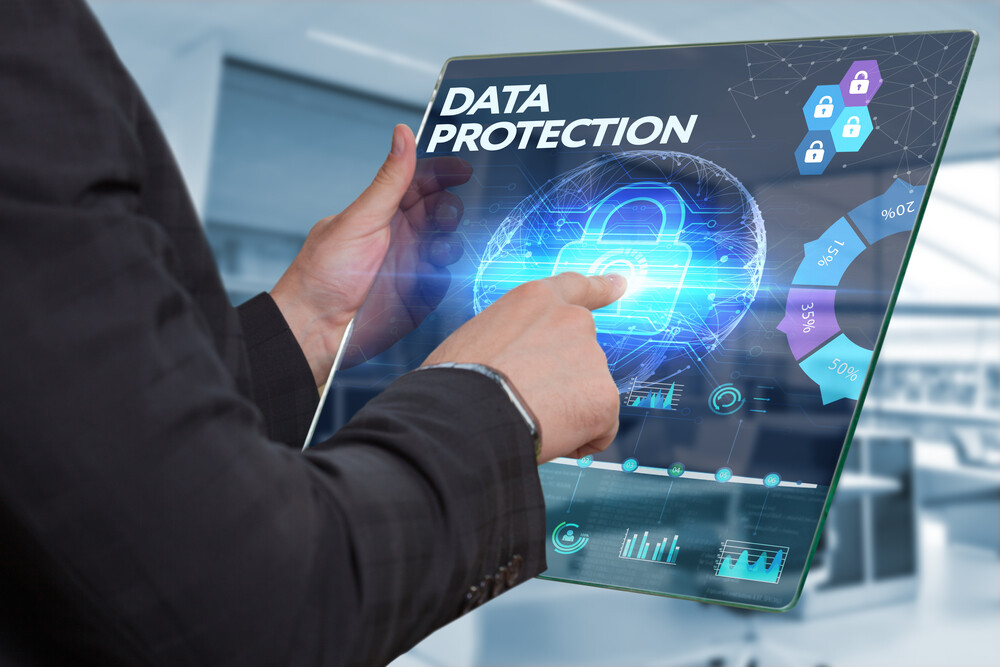 3. Practice good password management
It's very important to protect sensitive data with strong passwords and it's even great if you endeavor to change this at regular intervals.
We all have too many passwords to manage, and it's easy to take short-cuts, like reusing the same password. A password management program can help you to maintain strong unique passwords for all of your accounts. These programs can generate strong passwords for you, enter credentials automatically, and remind you to update your passwords periodically.
4. Use Two-Factor or Multi-Factor Authentication
Two-factor or multi-factor authentication is a service that adds additional layers of security to the standard password method of online identification. Without two-factor authentication, you would normally enter a username and password. But, with two-factor, you would be prompted to enter one additional authentication method such as a Personal Identification Code, another password or even fingerprint. With multi-factor authentication, you would be prompted to enter more than two additional authentication methods after entering your username and password.
5. No External Connection
Avoid using USBs and other external devices on your office system, which can implement the transfer of data from one device to the other. This also includes using USB portals to charge mobile phones and other electronic devices.
6. Perform data risk assessment
It is vital to perform risk assessments on a regular basis. This helps to detect any possible dangers to organization data. Through this assessment the organization's current data security is examined to check if there are any vulnerabilities; and therefore, solutions are formulated to address and mitigate the possible risks.
7. Never leave devices unattended
The physical security of your devices is just as important as their technical security. If you need to leave your laptop, phone, or tablet for any length of time, lock it up so no one else can use it. If you keep protected data on a flash drive or external hard drive, make sure it is encrypted and locked up as well.
For desktop computers, lock your screen or shut-down the system when not in use.