Computer Hardware Engineers, What do they do?
Computer hardware engineers entail the activity of research, design, development, and testing of computer systems and components such as processors, circuit boards, memory devices, networks, and routers. Hardware engineers work in research laboratories that build and test various types of computer models, they help to accelerate new computer technology by creating advancements in computer hardware.
Computer hardware engineers often work together with software engineers, since both are often connected to the development of certain products. For example, developing a mobile phone requires both hardware and software engineering skills.
Hardware engineers also design non-computer devices, such as car parts or medical devices that are connected to the Internet and have hardware systems embedded in them.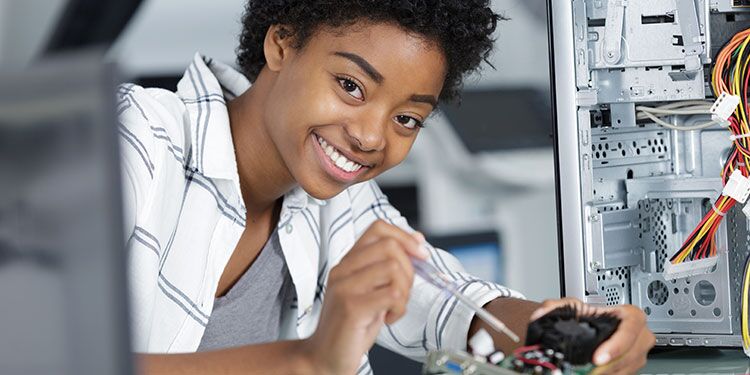 Some of the functions of Computer hardware engineer are:
Creating and designing computer hardware
Identify and isolate defects in computer hardware
Design and test circuits and other electronic components.
Generate specifications for parts
Updating existing computer equipment
Testing models of computer hardware, analyzing test results and modifying designs
Supervise technicians and other engineers during the development phase.
Design support peripherals, including central processing units (CPUs), support logic, microprocessors, custom integrated circuits, and printers and disk drives.
Career Outlook for Computer Hardware Engineers
Computer hardware engineers usually work in research laboratories that build and test various types of computer models. While some computer hardware engineers work for small companies or as freelancers, some work in computer systems design firms, research and development firms, or for the federal government. They often work on teams and must be able to communicate with other types of engineers as well as with non-technical team members.
Employment of computer hardware engineers is projected to grow 6 percent from 2018 to 2028, about as fast as the average for all occupations. A limited number of engineers will be needed to meet the demand for new computer hardware because more technological innovation takes place with software than with hardware. However, demand may grow for hardware engineers as more industries outside of the computer and electronic product manufacturing industry begin to research and develop their own electronic devices. Thus, although declining employment in the manufacturing industries that employ many of these workers will impede the growth of this occupation, computer hardware engineers should be less affected than production occupations because firms are less likely to outsource this type of work.
An increase in hardware startup firms and the ongoing increase in devices with computer chips embedded in them, such as household appliances, medical devices, and automobiles, may lead to some job growth for computer hardware engineers.
The industries employing Computer Hardware Engineers are as follows:
Computer systems design company
Computer hardware sales and repair service
Computer and electronic product manufacturing
Scientific research and development services
Government facilities
Computers and peripheral equipment
Semiconductor and electronic instrument manufacturing