Computer Aided Design (CAD) 1
Computer-Aided Design also known as CAD is the use of computer programs to create, modify, analyze, or optimize precision drawings. CAD Softwares are used in making technical drawings with dimensions and details that are representative of real-world objects such as buildings, cars, airplanes, tools, machines, and ships
CAD designs varies with industries ranging from aerospace, automotive, fashion, film, entertainment, construction, planning, and civil works.
Computer-aided design tools have helped engineers, architects and other professionals in the design activity purposes. Professionals have been able to save time, energy, and money, consequently increasing the productivity and efficiency of the entire design process. In product lifecycle management, the use of geometric tools plays a significant role. The CAD is available in various packages ranging from 2D vector based drafting systems to 3D parametric surface and solid design modelers.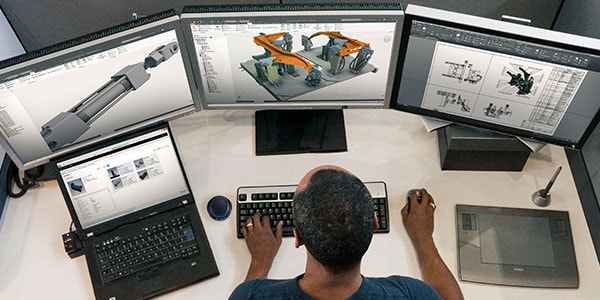 CAD allows you to prepare fast and accurate drawings. Virtually anything can be constructed and built as a design model developed in the CAD system. The flexibility to alter the drawings is performed very easily with a minimal effort.
CAD is used in major areas like applications that involve computer graphics, computer- aided manufacturing, solid modeling, solving by constraints, architectural purpose and VLSI design. Other fields that use the CAD are Architecture Engineering and Construction, Building Engineering (AEC), Mechanical CAD (MCAD), Electronic and Electrical (ECAD), manufacturing process planning, and digital circuit design.
CAD uses four basic phases that are used for designing and manufacturing. They are the requirement phase which collects the basic requirements and conceives the basic idea. The designing phase uses detailed component modeling and assembly modeling. The development phase uses engineering drawings. The tool design is used in the manufacturing phase.
Computer Aided Manufacturing (CAM), CAD/CAM applications, CAD scanners, CAD resources, and the software used by these computer-aided techniques all enable the drawing to be developed quickly and easily. General purpose CAD software, 3D rendering software, CAD/CAM software, facility management CAD, architectural CAD software, solid modeling CAD software and Mechanical CAD (MCAD) are the major computer-aided software applications that are used.